company
FSC® certification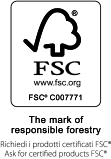 Respect for Nature and populations: FSC® certification
The FSC® forest certification identifies products containing wood from forests that are managed correctly and responsibly according to strict environmental, social and economic standards.
The source forest is independently controlled and evaluated in accordance with good forest management principles, which have been established and approved by the Forest Stewardship Council, (Principles and Criteria of good Forest management), through participation and consent by the involved parties.
FSC® includes among its NGO members and some of the world's leading environment groups (WWF and Greenpeace), social organizations (the National Aboriginal Forestry Association of Canada), forest owners, companies that trade and deal with wood, groups of Mass Distribution, scientists and technicians, for a total of almost  900 members.
FSC® works to take care of our forests and those who rely on them: by protecting plant (biodiversity and ecological processes) and animal species, indigenous peoples rights, forest workers' safety.
FSC's vision is that the world's forests meet the social, ecological, and economic rights and needs of the present generation without compromising those of future generations: that is sustainability!
TABU has been FSC® certified since 2003: it is the link of a "chain of custody" among FSC® certified companies and a long list of wood species is available in the certification and guaranteed by an internal traceability system.
Currently, over 190 million hectares of forest are FSC certified, in over 80 countries worldwide.